Description:
Clear away the surrounding mercenaries to ensure the safe development of the country.
Task Objective: Defeat: Priest x6, Archer x18, Knight x6, Wolf rider x3.
Task Reward: Gold: 2900, Crystal: 580, Exp: 570, 1 MOJO
Enemy Line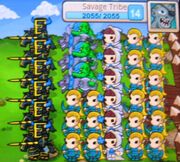 Suggestion: 1st and 2nd row knights with hero in the middle, 3rd row healers, 4-6th rows archers,7th row ninjas
Question : And...for a player lvl 11 ?
Answer : Fight in the arena to lvl 12, it wont take more than a day or two.
Question: Why place the ninjas behind the archers?
Answer: They do nice damage, but die to fast. Putting them in the last row means, that the archers will take all the damage first, so the ninjas can attack while the archers defend them.
Question: But archers have longer range than ninjas therefore putting ninjas behind will just mean putting them as decorations (cant attack coz enemy is out of range)
Answer: That is only true if it's archer vs archer. If a night,troll,knight is attacking they will come within reach of the ninja. If I place ninjas behind an archer I usually have another row of archers behind the ninjas.
Suggestion: first & second row knights. third row healers. forth row mage. fifth row archers. then hero & archers last remaining rows just in case. you may loose 3 healers & 3 knights.
Suggestion Berserker:
X A A M P H E
X A A M P R O
X A A M P K .
X A A M P K .
X A A M P K .
X A A M P K .

A=Acher lvl2
M=Mage
P=Priest lvl2
Hero lvl 5
K=Knight lvl2

lost 1 Knight
Destroyer all unit enemy and castle enemy
Suggestion Behemoth:
Hero Level: ? (?HP, ? Attack and ? Defense)
Used Items: ?
Used Spells:?
- Formation -
Lost: ?
Suggestion Succubus:
Hero Level: 6 (515HP, 19 Attack and 2 Defense)
Used Items: Unicorn Horn, Wheel of Fate, Unicorn Chest Plate, Silwer Unicorn Wings, Unicorn Whistbands
Used Spells:Shattering Strike, Fire Blast
- Formation -
AMPK.
AMPK.
AAPH.
AAPH.
AMPK.
AMPK.
Lost: 1 K
K-Knight
P-Priest
M-Mage
H-Hero
A-Archer
Formation :
A  M  M  P  K  K
A  M  M  P  K  K
A  M  M  P  T  T
A  M  M  P  T  T
A  M  M  P  K  K
A  M  M  P  K  K
Archer (L3), Mage (L2), Priest (L2), Knight (L3), Troll (L4)
Casualties : None
Other Tasks:
Ad blocker interference detected!
Wikia is a free-to-use site that makes money from advertising. We have a modified experience for viewers using ad blockers

Wikia is not accessible if you've made further modifications. Remove the custom ad blocker rule(s) and the page will load as expected.