Description:
Archers have an advantage in suppressing these Mages, give it a try.
Task Objective - Defeat : Mage*32
Task Rewards - 2500 Gold, 500 Crystal, 440 Exp, 1 MOJO
Enemy Line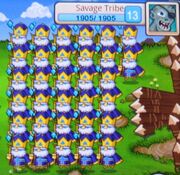 Best Suggestion:
Formation: 7th row Priests, 6th row Archer, nothing more.
Lost: no units
Note: Archers got 10 dmg and 15 Heal, so a critical hits (+21 dmg) are no problems.
Other Tasks:
Ad blocker interference detected!
Wikia is a free-to-use site that makes money from advertising. We have a modified experience for viewers using ad blockers

Wikia is not accessible if you've made further modifications. Remove the custom ad blocker rule(s) and the page will load as expected.